Updated By: LatestGKGS Desk
World's highest altitude telescope Ngari above sea level in Tibet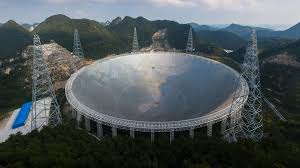 China building world's highest altitude telescope Ngari above sea level in Tibet for gravitational waves research near border with India
China is building up the world's highest altitude telescopes 5250 meters above sea level in a Tibet prefecture close to border with India.
The telescopes are to set up to investigate about the echoes resonating from the Universe and disclose about the Big Bang Theory.
This will be the highest altitude telescopes in the world located in Tibet close to the Line of Actual Control with India with a budget of USD 18.1 million.
The telescopes are expected to be operational by 2021
Yao Yongqiang, the Chief Researcher with the National Astronomical Observatories of the Chinese Academy of Sciences announces that the construction has begun for the telescope, code-named Ngari No. 1, 30 km south of Shiquanhe Town in Ngari Prefecture
The telescopes are proposed to be operational by 2021.
The Gravitational Observatory is to set up in Tibet.
Gravitational waves were actual physical ripples in the curvature of space time were first predicted by Albert Einstein in 1916.
Latest China Updates