Updated By: LatestGKGS Desk
H-alpha Solar Explorer:, China launch, Details, About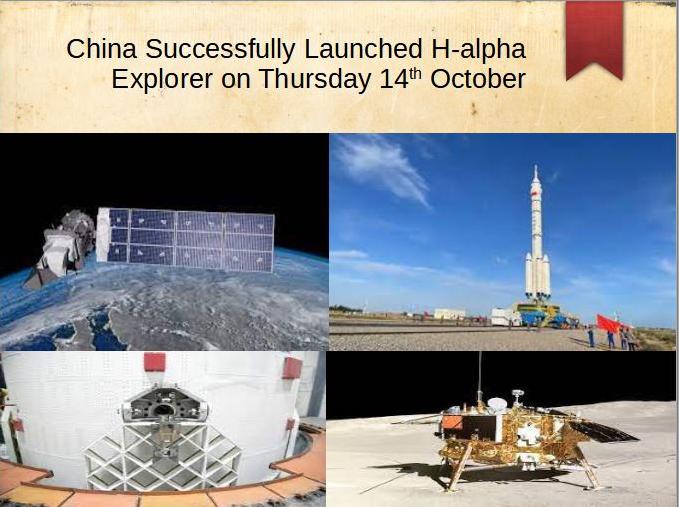 China Successfully Launched The Chinese H-alpha Solar Explorer: Detail, About
China successfully launched the Chinese H-alpha Solar Explorer and ten other satellites into orbit on Thursday 14 October 2021, marking the 37th orbital launch of the year.
On Oct. 14 2021, a Long March 2D took off from Taiyuan, north China, at 6:51 a.m. Eastern. The rocket employed a new configuration that allowed it to launch more than ten satellites for the first time, and the first stage had grid fins to confine the projected drop zone of the stage downrange, which had previously been tested on past Long March rockets.
The Chinese H-alpha Solar Explorer, China's first solar observatory, was launched into a 517-kilometer-altitude Sun-synchronous orbit.
The plane also carried an orbital atmospheric density detection experimental satellite (MD-1) and a commercial meteorological detection constellation experimental satellite, according to Xinhua (QX-1). Shenzhen Aerospace Dongfanghong Satellite Co., Ltd, a small satellite developer that subsequently became part of China Aerospace Science and Technology Corporation, built the pair (CASC).
MD-1, Tianshu-1, QX-1, and the Golden Bauhinia N2 satellite built by Hong Kong Aerospace Technology Group Limited and Commsat for a Guangdong-Hong Kong-Macao Greater Bay Area constellation, MOTS, and Tianyuan-1, as well as Head-2 E and Head-2 F for the HEAD Aerospace Group, are among the satellites on the flight, according to the China Great Wall Industry Corporation (CGWIC), a subsidiary of CASC.
Tianshu-1 is a test satellite for Insight Position Digital Intelligence Technology Service Co., Ltd's low-earth-orbit navigation upgrade.
MOTS refers to a Shanghai Lizheng Satellite VHF Data Exchange System (VDES) experiment satellite that is expected to serve as the foundation for a Chinese marine communication constellation.
The SSS-1 Micro Satellite and SSS-2A Cube Satellite were designed for an Asia-Pacific Space Cooperation Organization (APSCO) student small satellite project.
The 508-kilogram CHASE is on a mission to collect the first full-disk spectroscopic solar observations in the H-alpha deep-red visible spectral line waveband. CHASE will investigate solar activity and offer crucial data for space weather forecasting, such as monitoring filaments before solar flares and coronal mass ejections.