Updated By: LatestGKGS Desk
Council of States: Rajya Sabha and Term of the Rajya Sabha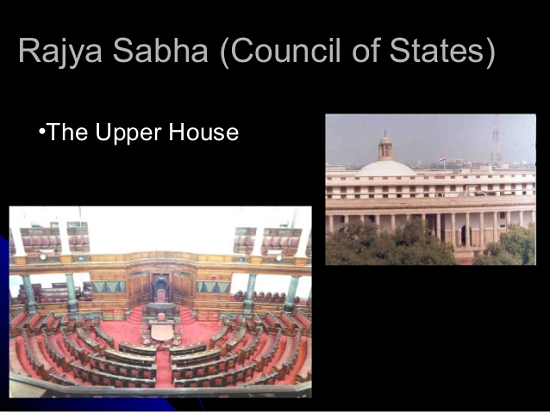 Council of States: Rajya Sabha, Qualifications for Membership And Term of the Rajya Sabha
The Council of states or the Rajya Sabha is the Upper House of the Parliament. As in India, there is the federal form f government, it is also essential that States should participate in the legislative activities at the Centre. This is done through Rajya Sabha.
Number of Members: There are 250 Members of Rajya Sabha. Of these, 238 are the representative of the states and the Union Territories. The remaining 12 are nominated by the President who are eminent in the fields of Literature, Science, Art or Social Science. Members of the Rajya Sabha are not directly elected by the people. They are elected by the Members of Legislative Assembly of that State.
The term of the Rajya Sabha: Rajya Sabha is a permanent House as it cannot be dissolved. However, after every two years, one-third of its members retire. Thus, the term of the individual Member of the Rajya Sabha is six years.
Qualifications for Membership: A person for being chosen as a Member of Rajya Sabha must be :
A citizen of India.
Not less than 30 years of age.
Not an insane or bankrupt as declared by a court of law.
Possessing such other qualification as may be prescribed by the Parliament.
The Representation of Peoples act, 1951 requires that the person's name should be registered as a voter in any Parliamentary constituency.