Updated By: LatestGKGS Desk
World Ozone Day, 16th September: The Kigali Amendment regarding HFCs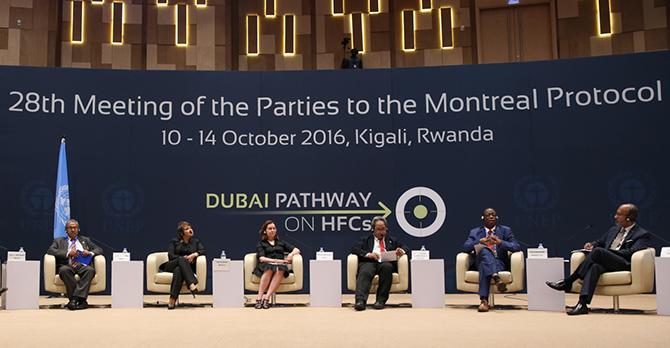 The Kigali Amendment to Montreal Protocol regarding HFCs (greenhouse gases) phase-out, Adoption by India
The Kigali Amendement is named after the place where the latest convention for the Montreal Protocol was held.
The Kigali Amendement agreed on 15th October, 2016 in Rwanda capital, Kigali.
The Kigali Amendment targets the replacement of HFCs (Hydroflurocarbons) which are strong gasses.
The replacement of CFCs (Chlorofluorocarbons) with HFCs reduced the benefits that the Montreal Protocol originally offered.
The Kigali Amendment hopes to slowly phase out the use of HFCs with plant eco-friendly alternatives.
The Ministry of Environment announced research & development initiative to decrease refrigerant impact on ozone.
The work on Kigali amendment in India the is collaboration of many government research organizations.
The World Ozone Day celebrations helped spread awareness among school children.
The Director General of The Energy and Research institute predicts the complete elimination in use of HCFCs by 2025
HFO (Hydrofluoroolefins) and propane are two of the better alternatives to CFCs, HCFCs and HFCs.
The company Godrej has started the use of ozone friendly propane as a refrigerant.
The use of HFCs will be frozen in US and Europe by 2019, most countries by 2024 and in hotter countries like India by 2028.