Daily Current Affairs 30th May 2018 GK GS Bulletins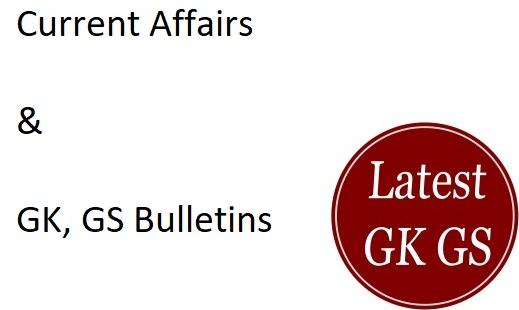 Daily Current Affairs GK GS Bulletins
1. PM Narendra Modi is on the three-nation visit to ASEAN countries, reached Jakarta in Indonesia on 30th May 2018.
2. India and Pakistan Director General of Military Operations (DGMOs) established a special hotline contact to which they agreed with ceasefire under the understanding pact of 2003.
3. The Government of India had appointed senior diplomat Pankaj Saran as Deputy National Security Advisor in National Security Council (NSC)
4. India and Pakistan held the meeting of their coast guard officials (Indian Coast Guard and Pakistan Maritime Security Agency) on 28th May in New Delhi.
5. Sudha Balakrishnan has been appointed as the first-ever chief financial officer (CFO) of the Reserve Bank of India (RBI).
6. WCD Ministry & UP Government signed MoU for Widows 'Sunrakh Bangar' Shelter Home Management in Vrindavan, UP.
7. China has won the Thomas Cup by defeating Japan.
8. Red Bull's Australian driver Daniel Ricciardo has won the Monaco Grand Prix title.
9. Newly-elected Karnataka Congress MLA Siddu Nyamagouda has passed away recently at the age of 70 years.
10. Telugu actor and producer Madala Ranga Rao has passed away recently at the age of 71 years.
11. Telangana government has enhanced the retirement age limit for teaching professors of state health department from 58 to 65.
12. National Informatics Center (NIC) has launched its fourth data center in Bhubaneswar.
13. Former chief justice Nasirul Mulk has been appointed as Pakistan's caretaker Prime Minister.
14. Gaj Yatra Campaign Flagged Off In Garo Hills Of Meghalaya. It's been organised by the Wildlife Trust of India (WTI) in collaboration with the State Forest Department.
15. Union Tribal Affairs Minister, Jual Oram on 29th May 2018 has launched 'PANKHA', an exhibition-cum-sale of hand-fans created by Tribal Cooperative Marketing Development Federation Ltd (TRIFED) through its artisans from all over India at its showroom, Tribes India in New Delhi.