Updated By: LatestGKGS Desk
Latest Daily Current Affairs 9th June 2018 GK GS Bulletin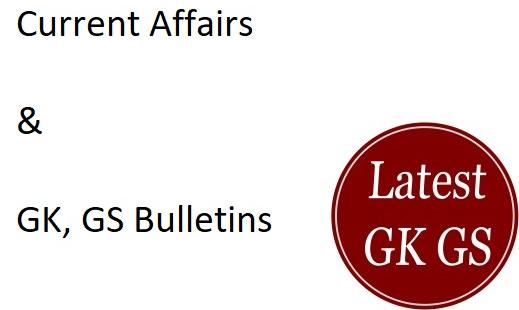 Latest Daily Current Affairs GK GS Bulletins
1. Prime Minister of India, Narendra Modi to visit China for the upcoming Shanghai Cooperation Organization (SCO) summit on 9th June to 10th June 2018.
2. Defence Minister Nirmala Sitharaman accorded approval for the procurement of equipment for the Defence Forces valued at over Rs 5500 crore.
3. President Ram Nath Kovind visited Tripura where he inaugurated National Highway and declares 'Queen Pineapple' as Tripura state Fruit.
4. Punjab Government launched Business First Portal to encourage business & trade in the state.
5. World Ocean Day was observed on 8th June with a theme "Preventing Plastic Pollution and Encouraging Solutions for a Healthy Ocean".
6. India Ranked 136th Among 163 Countries on Global Peace Index-2018, released by Sydney based think tank Institute of Economics and Peace (IEP).
7. West Bengal Government has announced to invest Rs 107 Crores to curb erosion near banks of rivers Ganga and Padma.
8. Andhra Pradesh to become India's First State to use Auto-Disable Syringes for all clinical purpose in order to prevent infections.
9. Indian Naval Ship (INS) Sunayana has successfully rescued 38 Indian Nationals after four-days from mekunu cyclone-hit Socotra island in Yemen
10. The International Monetary Fund welcomed the decision of the Reserve Bank of India to increase the repo rate by 25 basis point to 6 (point) 25 percent.
11. One day Workshop on Skill Development in Port and Maritime Sector was held in New Delhi
12. IT and Law Minister Ravi Shankar Prasad has released Bhagat Singh jail diary book in New Delhi.
13. Reserve Bank of India (RBI) has increased the eligibility limit for a loan under priority sector lending in a bid to boost affordable housing.
14. Pakistani-British writer Kamila Shamsie has won the international Women's Prize
15. Government of India has constituted a group of eminent persons to study the Special Economic Zones (SEZ) Policy of India.
16. West Bengal Governor Keshari Nath Tripathi has been given the additional charge of Tripura.
17. Malayalam writer and educationist Professor Panmana Ramachandran Nair has passed away recently at the age of 86.