Updated By: LatestGKGS Desk
Latest Daily Current Affairs 10th June 2018 GK GS Bulletin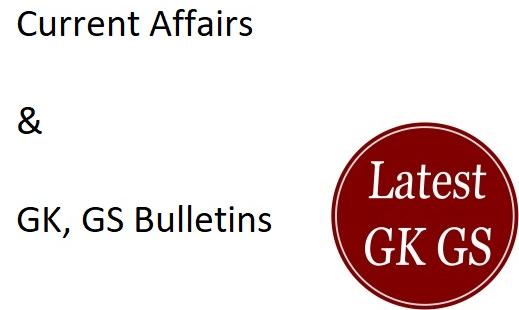 Latest Daily Current Affairs GK GS Bulletins
1. Prime Minister of India, Narendra Modi arrived in Qingdao, China on 9th June 2018, where he held bilateral talks with Chinese President, Xi Jinping and signed two MoUs.
2. India's Sports Ministry approved Upward Revision Of Pension To Meritorious Sportspersons
3. United Nations General Assembly (UNGA) has elected five as non-permanent members of UN Security Council (UNSC) viz South Africa, Indonesia, Dominican Republic, Germany and Belgium
4. India's built Dhanush Artillery Gun all set to be inducted in Indian Army after being successfully passing the final test conducted in Pokhran Rajasthan.
5. According to the recent survey by an Independent Verification Agency, sanitation coverage in rural India has risen to 85% under Swachh Bharat Mission.
6. Mithali Raj Becomes First Indian Cricketer To Score 2000 Runs In T20 Int Cricket.
7. Centre Government to raise five Indian Reserve Police (IRP) battalions in Jammu & Kashmir.
8. India, Belgium and Europian Union To Celebrate International Yoga Day 21 June 2018
9. Indian Coast Guard Interceptor Ship C-439 Commissioned In Mumbai
10. Sikkim Gets Its Longest Theng Tunnel: Great Importance To Locals & Armed Forces
11. World Economic Forum (WEF) has appointed Sarita Nayyar to its Managing Board.
12. Virat Kohli will be conferred with Polly Umrigar Award.
13. Harmanpreet Kaur and Smriti Mandhana are set to be maiden recipients of the Umrigar award for best international women cricketer for the 2016-17 and 2017-18 respectively.
14. Reserve Bank of India has decided to set up a Public Credit Registry (PCR) for containing information of all borrowers to ensure financial stability.
15. According to UNCTAD'S World Investment Report 2018, Foreign Direct Investment (FDI) to India declined from USD 44 billion in 2016 to USD 40 billion in 2017