IAAF World Athletics Under-20: Hima Das created history, wins gold in 400 m finals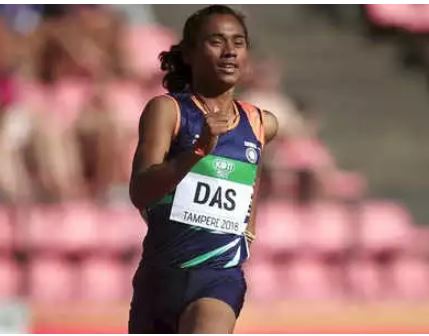 IAAF World Athletics Under-20: Hima Das created history, wins gold in 400 m sprint finals Details
Indian sprinter Hima Das created history on 12th July 2018, as she bagged the 'Gold Medal' in the 400m final race at the IAAF World Under-20 Athletics Championships in Tampere, Finland.
Hima Das now becomes the first Indian athlete to do so in a track event.
Hima Das (18-year-old) who hails from Assam, North-East India, clocked 51.46 seconds to claim the top position.
Andrea Miklos of Romania acquired the 2nd position with a timing of 52.07 seconds to claim 'Silver Medal' while USA's Taylor Manson took home 'Bronze medal' after clocking 52.28 seconds.
Hima Das now joins the shining company of star javelin thrower Neeraj Chopra, who won a gold in Poland in the last edition in 2016 in a world record effort.
The other medal winners at the World Junior Championships were Seema Punia (bronze in the discus in 2002) and Navjeet Kaur Dhillon (bronze in the discus in 2014).
International Association of Athletics Federations (IAAF)
Founded: 17 July 1912
Headquarters: Monaco
President: Sebastian Coe