Updated By: LatestGKGS Desk
Padma Bhushan Dhyan Chand: Profile, Early Life, Career Achievements, Awards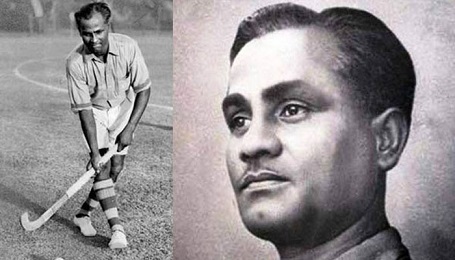 Legendary Indian Hockey Player Dhyan Chand: Profile, Early Life, Career Achievements, Awards
Legendary Indian Hockey Player Dhyan Chand Singh was an Indian Hockey player, who is considered as the greatest Hockey player in the history of the field sport.
Dhyan Chand Singh was popularly known as 'The Wizard' and 'The Magician' of hockey for his excellent ball control. He plays at Centre Forward position in field hockey. He was the captain of Indian Hockey Team from 1936 to 1948.
Dhyan Chand was born on 29th August 1905 in Allahabad, British India. He died on 3rd December 1979 (at age of 74 years) in Delhi.
Dhyan Chand earned three Olympic gold medals (1928, 1932, and 1936) in field hockey for India. He is considered as best Indian field Hockey player perhaps in the whole world.
Dhyan Chand played his final international match in 1948, having scored more than 400 goals from 1926 to 1946 (highest goal scorer in the history of hockey) during his international career.
Dhyan Chand was awarded the third highest civilian honor of Padma Bhushan by the Government of India in the year 1956.
Dhyan Chand's birthday on 29 August, is celebrated as National Sports Day in India every year.
Giant statue of Dhyan Chand on the hill top in Jhansi. The statue is visible from every roof top in the city of Jhansi