Google Doodle Celebrates 110th Birthday of Cricketer Sir Don Bradman, 27 August 2018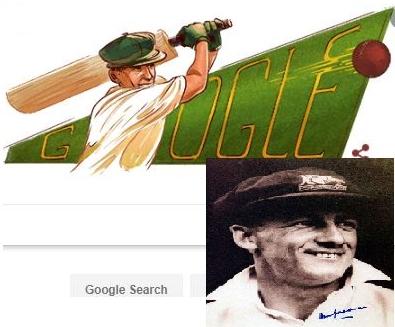 Google Doodle Celebrates 110th Birthday of Cricketer Sir Don Bradman, 27 August 2018: Details, Profile, Career Achievements
Google's Doodle celebrated the birth anniversary of Sir Don Bradman on its search homepage on 27th August 2018. Sir Don Bradman is considered as Australia's, and perhaps the world's greatest cricketer batsman.
Google wrote on its blog, "A hero to Australian cricket fans, Sir Donald George Bradman. Google in its Doodle marks an animated picture of Bradman striking a ball hard.
Sir Don Bradman is affectionately known as "The Don," and is considered the greatest batsman of all time." He was also called as The Boy from Bowral, Braddles & the White Headley.
Sir Don Bradman was born on 27th August in 1908 in Cootamundra, New South Wales of Australia. He died on 25th February 2001 (aged 92 years) in Kensington Park, South Australia, Australia.
Sir Don Bradman achieved a lifetime test batting average of 99.4, which many consider being one of the greatest achievements by any athlete in a sport.
Sir Don Bradman averaged at least one century every three innings over the course of his 21-year test match career. He amassed a total of 6,996 runs in 52 International Test matches. He also scored more than 28000 Runs in First Class Domestic Matches.