Updated By: LatestGKGS Desk
Government of India extended Atal Pension Yojana indefinitely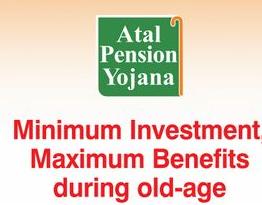 Government of India extended Atal Pension Yojana indefinitely: Details, Aim, Highlights
The Government of India has decided to indefinitely extend Atal Pension Yojana Scheme (APY), which had lapsed in August 2018. The decision was taken by the Union Cabinet chaired by PM Narendra Modi on 7th September 2018.
Union Cabinet has also aimed to broaden the APY scheme's scope by keeping it open-ended. The extension was given by taking into consideration of mass participation.
To further incentivize people's participation in the APY scheme, the age criterion for participation has been revised. Earlier, people of age 18 to 60 years were entitled to enroll in this scheme. But now it has been relaxed further to 65 years, taking into consideration a rise in average age-expectancy,
Now the APY scheme will expand its focus to target individuals, instead of households. Moreover, all accounts opened after August 2018 will have accident insurance limit of Rs 2 lakh, double than the earlier Rs 1 lakh limit. The overdraft facility of the scheme was also increased from Rs 5,000 to Rs 10,000.
About Atal Pension Yojana (APY)
Atal Pension Yojana Scheme (APY) was launched in June 2015. It had replaced earlier government-backed pension Swavalamban scheme targeted at the unorganized sector.
Atal Pension Yojana Scheme (APY) is a social security scheme that aims to provide affordable universal access to essential social security protection to an unorganized work force of the country, which constitutes more than 85% of the workforce.
Atal Pension Yojana Scheme (APY) is available to all citizens of India in the age group of 18-40 years making a minimum period of contribution by a subscriber is 20 years.