Updated By: LatestGKGS Desk
India Celebrates National Hindi Divas 'Hindi Day' on 14th September 2018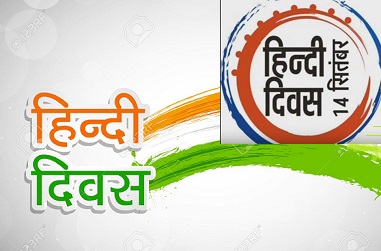 India Celebrates National Hindi Divas 'Hindi Day' on 14th September 2018: Details, Aim, CelebrationsSignificance, History
National Hindi Divas called as 'Hindi Day' is celebrated on 14th September across India, to promote Hindi as Matra Bhasha (mother tongue) of India.

National Hindi Divas 'Hindi Day' in India is celebrated by literary festivals, Hindi poetry sessions, Hindi essay writing competitions, Hindi speech contests, and other events.
National Hindi Divas 'Hindi Day' marks the adaptation of Hindi language as the official language of India by the Constituent Assembly of India on 14th September 1949.
About Hindi Language
Hindi is the 4th most spoken language of the world. It is the mother tongue of around 258 million people across the world.
Hindi, written in Devanagari Script, is one of the main languages of India and is spoken by around 40 percent of the Indian population.
The provision of Hindi as Official Language of the Union has been mentioned in Article 120, Article 210 and Article 343, 344 and from 348 to 351. It stated that all government communications will be penned in Hindi (Devanagari Script). This amendment came into effect on 26th January 1950.
The Pacific island country, Fiji also has adopted Hindi as an official language. The Constitution of Fiji states 3 official languages, namely English, Fijian, and Hindi. The dialect of Hindi spoken there is known as Fiji Baat or Fiji Hindi.