Updated By: LatestGKGS Desk
Ganesh Chaturthi festival, history, celebration, environmental impact, dates,location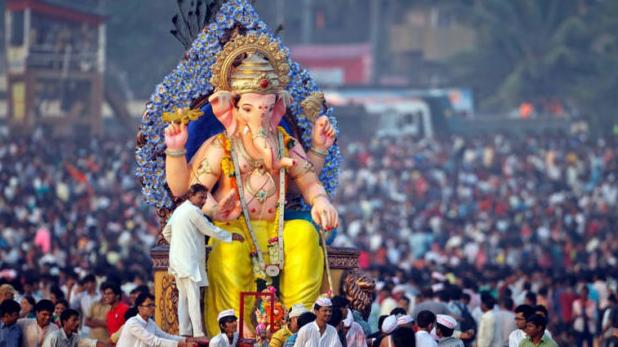 The birthday of Lord Ganesha and celebrations
Ganesh Utsav or Ganesh Chaturthi is one of the biggest festivals of India, especially Maharashtra. Ganesh Chaturthi, the birthday of Lord Ganesha is celebrated every year during the Hindu month of Bhadrapada with much fervor and enthusiasm.
The ten-day long festival ends on Ananta Chaturdashi with the immersion of Ganesha idols. Slogans of Ganpatti Bappa Morya, Purchya Varshi Laukariya (All Hail Ganesha! Please come next year) accompany the procession of Lord Ganesha while he is being taken for Visarjan or immersion.
The biggest Ganesha idol is located in Vishakhapatnam and measures more than 70 feet tall.
Lord Ganesha is also worshiped in countries like Thailand, Cambodia, Indonesia, Afghanistan, Nepal, and China.
Though many believe that Lord Ganesha is a bachelor, yet there are numerous instances where Ganesha is represented by two wives-Ridhi and Sidhi.
The first Ganesh Chaturthi celebration dates back to the era of Chatrapati Shivaji Maharaja. The festival continued to be celebrated by the Peshwas.
However, after the fall of the Peshwas, the festival was revived by freedom fighter Bal Gangadhar Tilak during 1893. It was during 1893 when Tilak urged the masses to unite and come together to celebrate the festival. The main motive was to unite people and inculcate feelings of patriotism in them. Sadly, when India finally got freedom, Lok Manya Tilak wasn't there to witness it.