Updated By: LatestGKGS Desk
British Satellites 'NovaSAR' & 'S1-4' Details, Features, Significance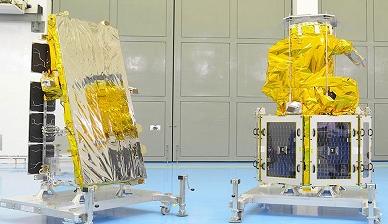 British Satellites 'NovaSAR' & 'S1-4' Details, Features, Significance
ISRO's PSLV rocket has launched 'NovaSAR-1' & 'S1-4' earth observation satellites of the United Kingdom into space on 16th September 2018, from the First Launch Pad of Satish Dhawan Space Centre, Sriharikota in Andhra Pradesh.
NovaSAR Satellite
NovaSAR is a technology demo mission satellite developed by Airbus. It will test SSLT's ability to provide earth observation and disaster management data for bidding customers.
NovaSAR communication frequency falls under the 'S-band', a microwave region in the electromagnetic spectrum between 2 and 4 GHz in frequency. This is the most widely used band for mobile broadband, weather monitoring, and ship radars worldwide.
NovaSAR satellite is built with Synthetic Aperture Radar (SAR) capabilities-a superior kind of radar imaging technology that produces 2D and 3D visuals of landscapes. It also doesn't rely on daylight to capture its high-resolution visuals.
NovaSAR satellite imaging prowess will be directed at monitoring forest, land use patterns and ice cover over time. It will also keep an eye out for potential floods and other looming natural disasters, according to SSTL's
S1-4 Satellite
S1-4 Satellites companion for the launch, the S1-4 satellite, is a high-resolution Earth observation satellite.
S1-4 Satellites can capture images of multiple different targets in a single pass above an area, the release says. All this clicking of images away at an impressive image resolution of less than one meter.
S1-4 Satellites is designed for use in urban planning, land use, and agriculture, as well as natural resource and disaster monitoring.