Updated By: LatestGKGS Desk
Secret Study behind Rs 500, 1000 denomination note ban by PM Modi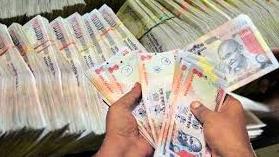 The secret behind ban of Rs.500 and Rs.1000 denomination note by Prime Minister Narendra Modi
The study was conducted by Indian Statistical Institute and other security agencies and was presented to Prime Minister Narendra Modi in February and March this year.
The decision was taken to curb black money directly from the economy and in one direction.
According to the reports, Rs.400 crore in the economy is fake currency or IFCL and the rate is same from last four years
It was also found that Rs.500 denomination fake notes are more in the economy as compared to Rs.1000 note.
This study was conducted by National Investigating Agency and ISI which suggested that the currency should be demonetized.
It was also found in the study that 80% of the notes were caught by HDFC, ICICI and Axis Bank.
It was estimated that every year Rs.70 crore of fake currency has been flowed in the economy and one-third of this amount is only caught by the banks.
Latest 500 1000 Notes Ban Updates