Updated By: LatestGKGS Desk
World Habitat Day on First Monday of October: 1st October 2018 Theme Details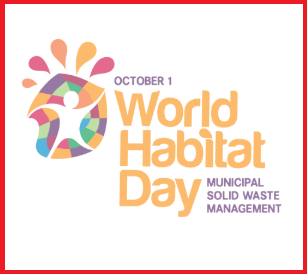 World Habitat Day on First Monday of October: 1st October 2018 Theme, Details, Aim, Significance, History
The World Habitat Day is observed on the 'First Monday of October' every year, all over the world. This year, it is celebrated on 1st October 2018.
The World Habitat Day main aim is to reflect on the state of cities and towns and basic human right to adequate shelter.
The World Habitat Day also aims to remind the world of its collective responsibility for the habitat of future generations.
The World Habitat Day was established by the United Nations General Assembly (UNGA) through Resolution 40/202 in 1985 and was first celebrated in the year 1986. Since then it is observed each year (First Monday of October) with a new theme to promote sustainable development policies that ensure adequate shelter for all.
The World Habitat Day 2018, the theme this year is "Municipal Solid Waste Management".
About 2018 Theme: Solid Waste Management is a global issue that affects everyone. The amount of waste produced by individuals is growing daily and often costs local authorities a large proportion of their budget Poor solid waste collection and disposal can lead to serious health problems from uncontrolled dump sites and waste burning. It also leads to polluted air and water.
Latest United Nations General Assembly (UNGA) Updates