Updated By: LatestGKGS Desk
World Cities Day Celebrations On 31 October 2018 Theme, Details, Aim, History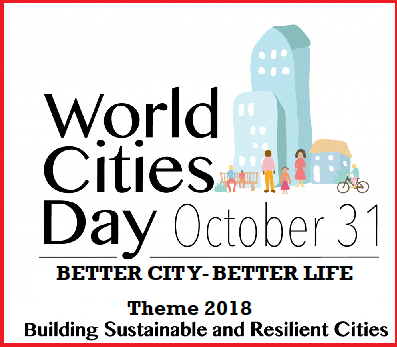 World Cities Day Celebrations On 31 October 2018 Theme, Details, Aim, History
The World Cities Day is celebrated every year on 31st October around the world to work together for a planned and sustainable urban living in the wake of the rapid growth of population and problems.
The World Cities Day aims to promote the international community's interest in global urbanization, push forward cooperation among countries in meeting opportunities and addressing challenges of urbanization, and contributing to sustainable urban development around the world.
The World Cities Day 2018, the theme is "Building Sustainable and Resilient Cities". It highlights that cities need support to become resilient and develop their capacity to absorb the impact of disasters, celebrations will take place in Liverpool, the United Kingdom.
protect and preserve human life and limit damage to and destruction of public and private assets while continuing to provide infrastructure and services after a crisis.
The World Cities Day 2018 mega The general theme of World Cities Day is Better City, Better Life, to promote successes of urbanisation and address specific challenges resulting from urbanisation.
The World Cities Day was established by the United Nations General Assembly (UNGA) by passing resolution 68/239 in December 2013.
The World Cities Day was designated in recognition of the significance of urban basic services as a foundation for the overall social and economic development.