Updated By: LatestGKGS Desk
Freedom Fighter Maulana Abul Kalam Azad Profile, Early Life, Education, Achievements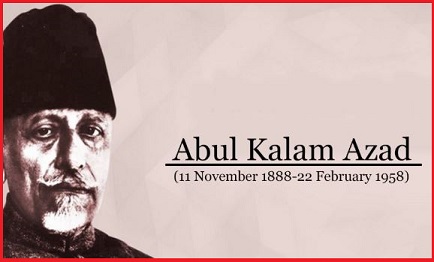 Freedom Fighter Maulana Abul Kalam Azad Profile, Early Life, Education, Career, Achievements
Maulana Abul Kalam Azad was born on 11 November 1888 and died on 22 February 1958. He was senior Muslim leader of Indian National Congress during Indian independence movement.
Maulana Abul Kalam Azad is popularly remembered as Maulana Azad (word Maulana is honorific meaning 'Our Master') and he had adopted Azad (Free) as his pen name.
Maulana Azad was first Minister of Education of Independent India. He had played important role in the foundation of Jamia Millia Islamia at Aligarh in Uttar Pradesh. He assisted in shifting campus of the university from Aligarh to New Delhi in 1934.
Maulana Azad in his young age rose to prominence through his work as journalist, publishing works critical of British Raj and espousing causes of Indian nationalism.
Maulana Azad became the leader of Khilafat Movement, during which he came into close contact with Mahatma Gandhi. He later became an enthusiastic supporter of Gandhi's ideas of non-violent civil disobedience and worked to organize the non-co-operation movement in protest of the 1919 Rowlatt Acts.
Maulana Azad was committed to Gandhi's ideals, including promoting Swadeshi (indigenous) products and cause of Swaraj (Self-rule) for India. In 1923, at age of 35, he became the youngest person to serve as President of Indian National Congress.
Maulana Azad was one of the main organizers of the Dharasana Satyagraha in 1931 and emerged as one of the most important national leaders of the time, prominently leading causes of Hindu-Muslim unity as well as espousing secularism and socialism.
Maulana Azad served as Congress president from 1940 to 1945, during which the Quit India rebellion was launched. He also worked for Hindu-Muslim unity through the Al-Hilal newspaper.
Indian Ministry of Human Resource Development in 2008 announced to commemorate the birthday Maulana Abul Kalam Azad as 'National Education Day' for recalling his contribution to cause of education in India.