Updated By: LatestGKGS Desk
India & Russia First-Ever Indo-Russian Strategic Economic Dialogue held in Russia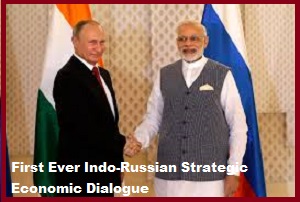 India & Russia First-Ever Indo-Russian Strategic Economic Dialogue held in Russia: Details, Highlights
India & Russia First-Ever Strategic Economic Dialogue was concluded on 26th November 2018 at St. Petersburg, Russia.
The Indian side was represented by NITI Aayog Vice Chairman Rajiv Kumar and Russian delegation headed by Economic Development Minister Maxim Oreshkin.
The two-day forum provided participants platform to discuss the development of bilateral ties in trade, investment, technology, and industry. It was aimed at bringing together key business figures from both countries.
Transport, agriculture and agro-processing, Small and Medium Enterprises (SMEs), digital transformation and frontier technologies and industrial cooperation were some of the key areas of focus of the forum.
About Indo-Russian Strategic Economic Dialogue
Indo-Russian Strategic Economic Dialogue was created by PM Narendra Modi and President Vladimir Putin in their informal summit (held at Sochi in May 2018) to give a big push to an economic partnership between both countries that has started to gain momentum since 2017.
Indo-Russian Strategic Economic Dialogue aims to focus on the macro picture of economic partnership and also explore partnership and joint ventures in services and IT sectors. It seeks to put in place mechanism for partnership between resource-rich Russian regions and Indian states.
In the effort to boost bilateral trade to $30 billion by 2025, both countries have agreed to give high priority to the removal of obstacles to trade in order to improve upon 21.5% growth in two-way trade recorded last year. India has already launched Strategic Economic Dialogue with China.