Former US President George H. W. Bush passes away at 94 years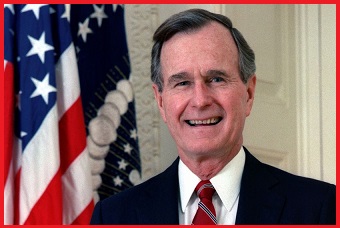 Former US President George H. W. Bush passes away at 94 years: Details, Career, Highlights
George Herbert Walker Bush, the 41st President of the United States, who presided over the end of the Cold War, died on 30th November 2018 at the age of 94 years.
George HW Bush was suffering from Parkinson's disease that forced him to use a wheelchair in recent years, and he had been in and out of hospitals in recent months as his health was not good.
George HW Bush was the father of former President George W. Bush, who served two terms in the White House from 2001 through 2008, and former Florida Governor Jeb Bush, who sought the 2016 Republican nomination for president.
George HW Bush was a Republican like his sons, he also served as vice president for eight years during Ronald Reagan's two terms as president, before being elected to the White House.
George HW Bush also served as a US naval aviator during World War II.
George HW Bush was born on 12th June 1924 in Milton, Massachusetts into a wealthy New England political dynasty. He graduated from Phillips Academy Andover and enlisted in the Navy. Later, he graduated in 1948 with a degree in economics from Yale.
After World War II, Bush married Barbara Pierce (the first lady) in 1945 and have four sons namely George W Bush, Jeb, Neil and Marvin and a daughter Dorothy Bush LeBlond.