Updated By: LatestGKGS Desk
Karnataka's Kaiga Atomic Power Station sets world record for continuous operation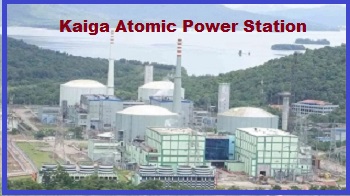 Karnataka's Kaiga Atomic Power Station sets world record for 941 days of continuous operation: Details, Highlights
The Kaiga Atomic Power Station of Karnataka has set a new world record, with one of its units functioning continuously without any interruption for more than 941 days.
Earlier, a world record was created by Unit 2 of Heysham of the United Kingdom. It operated without any interruption for 940 days.
The same unit of Kiaga Power plant had set a world record in October 2018 when it functioned non-stop for 894 days. The record set by Kaiga power plant is a record for all kinds of units in the world which generate nuclear power, including advanced gas-based reactors.
Background
Kaiga Atomic Power Station is a nuclear power generating station located at Kaiga in Karnataka, India. It is operated by the Nuclear Power Corporation of India.
Kaiga Atomic Power Station has been functioning since March 2000. It has four units of 220 MW each. It's total power generations capacity is 880 MW
Kaiga Atomic Power Station is the third largest nuclear power plant in India. Tarapur (1400 MW) of Maharashtra is the largest and Rawatbhata (1180 MW) of Rajasthan is the second largest power plant in India.
Kaiga Atomic Power Station supplies electricity to Karnataka, Andhra Pradesh, Kerala, Tamil Nadu, and Puducherry.