Updated By: LatestGKGS Desk
NITI Aayog: India Innovation Index (III) Karnataka Tops: Key Highlights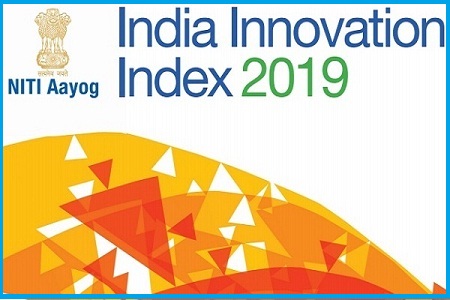 NITI Aayog: India Innovation Index Karnataka Tops: Key Highlights
According to the NITI Aayog's India Innovation Index 2019 (III), Karnataka topped in the Most Innovative State among the Major States.
The India Innovation Index 2019 was released by NITI Aayog's vice-chairman Rajiv Kumar and CEO Amitabh Kant.
This first-ever India Innovation Index released by NITI Aayog which has been developed into lines of the Global Innovation Index (GII).
The India Innovation Index's aim is to analyze innovation at the state level and promote competitiveness among the states.
Tamil Nadu (2nd), Maharashtra (3rd), Telangana (4th), and Haryana secured 5th position n innovation, followed by Kerala, Uttar Pradesh, West Bengal, Gujarat, and Andhra Pradesh.
In the list of 17 major states, Chattisgarh, Bihar, and Jharkhand are at bottom of the index with Jharkhand finishing last.
Among North-Eastern & Hill States, Sikkim, Himachal Pradesh, and Uttarakhand have occupied the top spot of Most Innovative State in the index while among Union Territories Delhi, Chandigarh and Goa have topped the list.