Updated By: LatestGKGS Desk
NITI Aayog Releases SDG India Index: Baseline Report 2018 Details, Highlights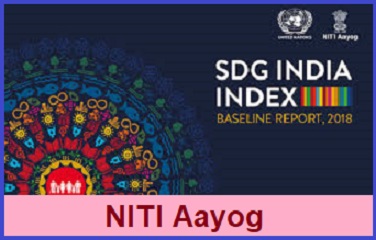 NITI Aayog Releases SDG India Index: Baseline Report 2018 Details, Aim, Features, Highlights
The Sustainable Development Goal (SDG), SDG India Index: Baseline Report 2018 was released by the NITI Aayog on 21st December 2018 in New Delhi.
The SDG India Index 2018, documented the progress made by India's States and Union Territories (UTs) towards implementation of the 2030 SDG targets.

The SDG India Index was developed in collaboration with the Ministry of Statistics & Programme Implementation (MoSPI), Global Green Growth Institute and United Nations in India.
The SDG India Index aligned with the Prime Minister's vision of 'Sabka Saath, Sabka Vikas', which embodies the five Ps of the global SDG movement i.e People, Planet, Prosperity, Partnership, and Peace.
The SDG India Index is a single measurable Index to map the progress of States & UTs towards 2030 SDGs.
The progress of all States and UTs were tracked on 62 Priority Indicators selected by NITI Aayog, which in turn was guided by MoSPI's National Indicator Framework comprising 306 indicators and based on multiple-round consultations with Union Ministries/Departments and States/UTs.
The SDG India Index spans around 13 out of 17 SDGs.
Progress on SDGs 12, 13 & 14 could not be measured as relevant State/UT level data were not available.
SDG 17 was left out as it focuses on international partnerships.
Score Computation
A composite score was computed between the range of 0-100 for each State and UT based on the 13 selected goals.
The higher the score of a State/UT, the greater the distance to target achieved which means if a State/UT achieves a score of 100, it signifies that it has achieved the 2030 national targets.
There are 4 categories of the index based on the scores the state/UT has achieved. They are:
1. Achiever (100),
2. Front Runner (65-99),
3. Performer (50-64) and
4. Aspirant (0-49).