Lohri Festival Celebrations On 13th January 2019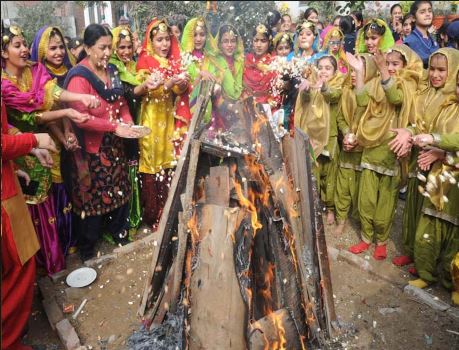 Lohri Festival Celebrations On 13th January 2019: Details, Significance, Celebrations, History
Lohri is a harvest festival that falls on 13th January every year and celebrated in India. It is a celebration of the winter crop season and remembering Sun deity 'Surya'.
Lohri is a festival to burn fire, eat and drink around the fire and enjoy.
Lohri is celebrated one day before Makar Sankranti which falls on 14th January every year, a festival that marks the end of the month with the winter solstice and beginning of longer days.
Lohri is a traditional welcome of longer days and sun's journey to the northern hemisphere. It is also believed that after Lohri people get relief from cold.
Lohri is celebrated in states like Punjab, Haryana and Jammu and Kashmir by Hindus and Sikh community.
On Lohri day, a bonfire is lit; popcorns, peanuts, rewari and gajak are distributed to all neighbors, friends, and relatives.
Lohri celebrations is significantly marked on a huge scale for new married couples and newborn babies first Lohri