Government Launches Shehri Samridhi Utsav To Strength DAY-NULM Scheme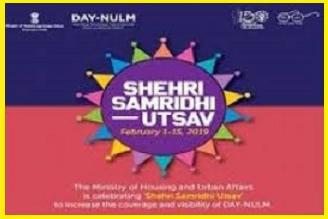 Government Launches Shehri Samridhi Utsav To Strength DAY-NULM Scheme: Details, Aim, Highlights
Union Ministry of Housing & Urban Affairs (MoHUA) has launched the Shehri Samridhi Utsav, an initiative that aims to strengthen the approach of Deendayal Antyodaya Mission – National Urban Livelihoods Mission (DAY-NULM) scheme to the most vulnerable people.
The Shehri Samridhi Utsav will facilitate access of Self-Help Group (SHG) members to the other government schemes.
The Shehri Samriddhi Utsav began with a series of rallies led by women's' SHGs across the country. These rallies spread awareness about DAY-NULM in urban poor communities.
Job melas and fairs were organised by many states to market the products made by women micro-entrepreneurs.
Through Shehri Samridhi Utsav, the SHG members across cities are being linked to government schemes such as Swachchh Bharat Mission (Urban), Pradhan Mantri Awas Yojana (Urban), Ujjwala Yojana, Pradhan Mantri Jan Dhan Yojana, Pradhan Mantri Suraksha Bima Yojana, Pradhan Mantri Jeevan Jyoti Yojana, and National Nutrition Mission.
A major highlight of Shehri Samridhi Utsav is the National Exhibition cum sale of SHG products and National Street Food Festival that will be organised in New Delhi.
Over 100 stalls are being set up in Central Delhi with various handlooms, handicrafts, snacks and other local products made by 200 Self Help Groups representing 23 states.