President Ram Nath Kovind Presents Gandhi Peace Prize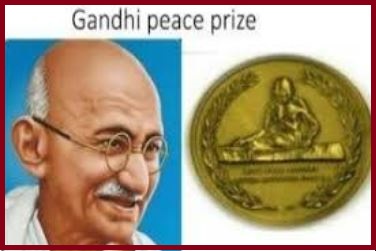 President Ram Nath Kovind Presents Gandhi Peace Prize: Winners, Achievements, Highlights
President Ram Nath Kovind presented the "Gandhi Peace Prize" for the years 2015, 2016, 2017 and 2018 at Rashtrapati Bhawan, in the presence of Prime Minister Narendra Modi.
Gandhi Peace Prize for Social, Economic and Political transformation through Non-violence was instituted in the year 1995 and comprises of an amount of Rs 1 crore along with a citation.
The following are the awardees:
1. 2015 – Vivekanand Kendra, Kanyakumari: For contribution to rural development, education, development of natural resources
2. 2016 – Akshaya Patra Foundation and Sulabh International (jointly): For Akshaya Patra Foundation was chosen for its contribution in providing mid-day meals to millions of children across India and Sulabh International was chosen for its contribution in improving the condition of sanitation in India and emancipation of manual scavengers.
3. 2017 – Ekal Abhiyan Trust: For contribution in providing education for rural and tribal children in remote areas pan India, rural empowerment, gender, and social equality.
4. 2018 – Yohei Sasakawa: For his contribution in Leprosy Eradication in India and across the world