World's Most Expensive Cities Survey 2019: Singapore Hong Kong & Paris Shares At Top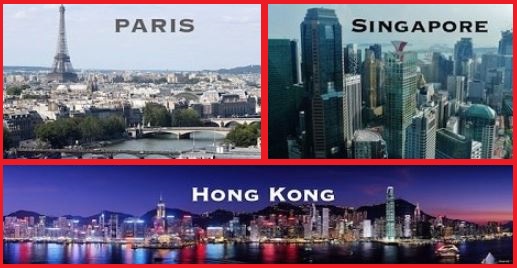 World's Most Expensive Cities Survey 2019: Singapore, Hong Kong & Paris Shares Shares Top Position: Details, Highlights
The Economist Intelligence Unit has released the report of the Worldwide Cost of Living Survey 2019.
The annual Economist Intelligence Unit (EIU) survey listed Singapore, Paris and Hong Kong as the world's most expensive cities. In the 30 years long history it is for the first time the three cities are sharing the top spot.
Key Findings
Singapore which top's of the rankings for the sixth consecutive year is joined there by Hong Kong and Paris.
Zurich in Switzerland stood at the fourth position followed by Japan's Osaka which shared fifth place with Geneva, also in Switzerland.
Seoul (South Korea), Copenhagen (Denmark) and New York (US) were jointly placed at the seventh spot.
Los Angeles (US) along with Israel's Tel Aviv was named the 10th most expensive city in the world.
The cost of living in Chinese cities remains relatively stable, while Southeast Asian destinations were moving up the ranks.
Weaker local currencies have pushed all five Australian and two New Zealand cities surveyed down in the ranking.
While parts of Asia remain the most expensive places on Earth, Asian Cities also makes several appearances at the bottom of the list.
World's cheapest cities include Caracas (Venezuela), Damascus (Syria), Tashkent (Uzbekistan), Almaty (Kazakhstan), Karachi (Pakistan), Lagos (Nigeria), BuenosAires (Argentina) as well as the three Indian cities of Bengaluru, Chennai, and Delhi.
World's most expensive cities to live in 2019
1. (tie) Singapore
1. (tie) Paris, France
1. (tie) Hong Kong
4. Zurich, Switzerland
5. (tie) Geneva, Switzerland
5. (tie) Osaka, Japan
7. (tie) Seoul, South Korea
7. (tie) Copenhagen, Denmark
7. (tie) New York
10. (tie) Tel Aviv, Israel
10. (tie) Los Angeles