Updated By: LatestGKGS Desk
Indian Army Builds Longest Suspension Bridge 'Maitri' Over Indus River In Leh-Ladakh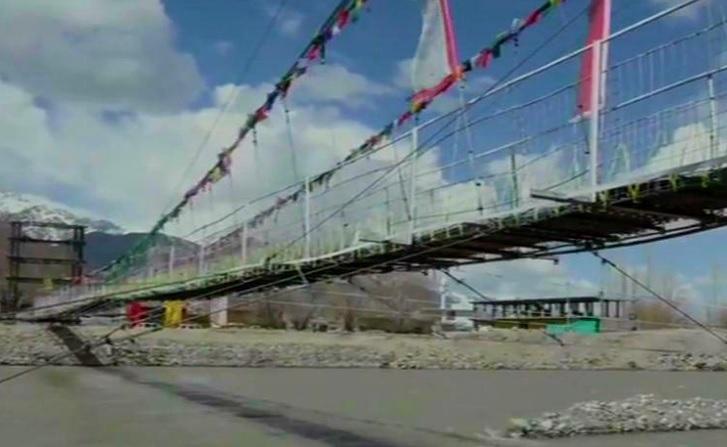 Indian Army Builds Longest Suspension Bridge 'Maitri' Over Indus River In Leh-Ladakh: Details, Features, Aim, Highlights
Indian Army has recorded a huge feat by constructing 'Maitri', the 260-feet longest suspension bridge over the Indus river in the Leh-Ladakh region in just 40 days.
The combat engineers belonging to 'Sahas aur Yogyata' regiment of 'Fire and Fury Corps' of the Indian Army undertook the construction of 'Maitri'.
The 'Maitri 'bridge is 500-tonne equipment and construction material was ferried to build this bridge.
The bridge "Maitri" was inaugurated on 1st April, '19 by Naik Phunchok Angus (Retd.), an 89-year-old war veteran along with war veterans of 1947-1948, 1962, 1971 and 1999 in the presence of Lt. Gen Yogesh Kumar Joshi and General Officer Commanding 'Fire and Fury Corps'.
Since the term 'Maitri' symbolizes friendship, the bridge has been named 'Maitri bridge' so as to symbolize the excellent civil-military relations between the military personnel and the locals of the Leh-Ladakh region.
The bridge 'Maitri' will provide connectivity to the remote areas of Ladakh and help residents of the largest villages in Ladakh, namely, Choglamsar, Stok and Chuchot.
This project is a part of the 25,000 crore projects allocated for the state of Jammu and Kashmir by the center. The other projects include the work for the 'Zoji la tunnel' and the all-weather road constructed in 2018 from Manali to Ladakh via Zanskar in Kargil.
In June 2018, the Border Roads Organisation(BRO) had built a 35-meter long 'Chamesahn' bridge leading to the base of the world's highest battlefield, the Siachen Glacier(under 'Project Himank') which in turn had eliminated a major issue of vehicular movement in this region.