Updated By: LatestGKGS Desk
GK Questions 26th April 2019 General Knowledge, Current Affairs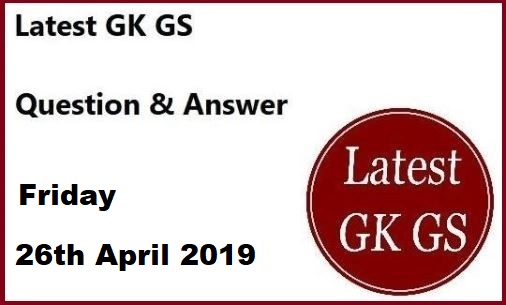 Daily GK Questions 26th April 2019 General Knowledge, Current Affairs
1. When World Intellectual Property Day (WIPD) is celebrated around the world?
Ans:- 26th April (Annually)
2. What is the rank of India at Asian Athletics Championship 2019?
Ans:- 4th Rank with 17 Medals
3. Recently, where did Zoologists discovered 2 new bird species?
Ans:- Indonesia Islands
4. What is the rank of India on Global Talent Competitiveness Index-2019 and which country tops?
Ans:- India ranked 80th and Singapore Tops

5. Who is the winner of Rabindranath Tagore Literary Prize 2019?
Ans:- Rana Dasgupta for his 2010 novel "Solo

6. North Korea's King Kim Jong-un hold his first summit talks with which country's President and where?
Ans:- Russia's Vladimir Putin in Vladivostok
7. Which bank sold its entire stake in NHB, Nabard to the Union Government??
Ans:- Reserve Bank of India (RBI)

8. Recently, India pushed which continent's right to a permanent seat in the UN Security Council??
Ans:- Africa

9. Recently, what did NASA Insight Mars Lander Detected for first-ever time on Mars?
Ans:- Marsquake

10. Which country recently became the world's first to launch a malaria vaccine?
Ans:- Malawi