Cricketer Mohammed Shami Profile, ICC Sports Career, Awards, Achievements, Records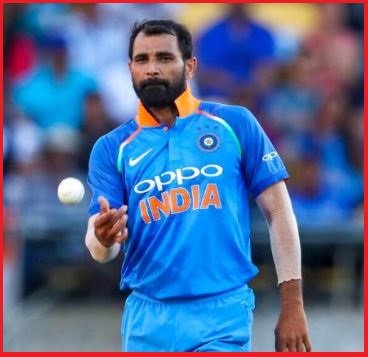 Cricketer Mohammed Shami Profile, ICC Sports Career, Awards, Achievements, Records
Mohammed Shami is an International Indian cricketer who plays for the Indian cricket national team in all formats and domestic cricket for Bengal.
Mohammed Shami is a Right-Arm-Fast Medium Swing & Seam Bowler and a lower order Right-Handed Batsman (Tailender).
Mohammed Shami has also played for India, Bengal, ICC World XI, India A squads.
Mohammed Shami also plays in the Indian Premier League (IPL) for Kings XI Punjab, Kolkata Knight Riders, Delhi Daredevils as a Fast-Medium Bowler.
Mohammed Shami was born on 3rd September 1990 (29-years-old) who hails from Amroha, Uttar Pradesh, India.
Mohammed Shami till date has played 40 Test matches, 63 One Day Internationals (ODIs) and 8 Twenty-Twenty (T20Is) matches for Indian national team.
Mohammed Shami as a bowler so far has taken 144 Test wickets, 113 ODIs wickets, 8 T20Is wickets and 40 wickets in IPL.
Mohammed Shami best bowling figures are as Test match 6/56; ODIs 4/35; T20Is 3/38.
Mohammed Shami made his Test debut vs West Indies at Kolkata on 6th November 2013; ODIs debut vs Pakistan on 6th January 2013 and T20Is debut vs Pakistan on 21st March 2014.
Recently, on 15th April 2019, Mohammad Shami was selected in India's squad for the 2019 Cricket World Cup.