Updated By: LatestGKGS Desk
RBI Issues New Rs 20 Denomination Banknote: Details, Features, Color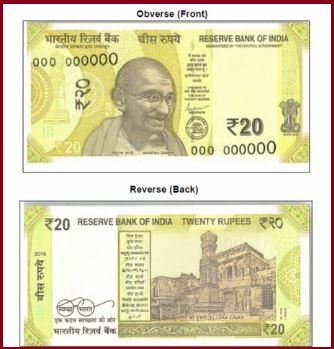 RBI Issues New Rs 20 Denomination Banknote: Details, Features, Color
The Reserve Bank of India (RBI) will issue new Rs 20 denomination banknotes having a base color of greenish -yellow with the size of 63 X 129 mm.
The first Rs 20 notes were issued in the Mahatma Gandhi Series in August 2001.
The new Rs 20 note will have a motif of Ellora caves on the dorsal side.
The new Rs 20 notes will have a geometric pattern in the front and back side, matching with the overall color scheme.
The front side will have a transparent register with denominational numeral 20, a latent image with the numeral and also a Devanagari version of '20'.
In the center of the new Rs 20, there will be a portrait of Mahatma Gandhi and towards the right of the portrait would be written in micro letters, RBI, Bharat, India and 20.
The new Rs 20 the guarantee clause, Governor's Shaktikanta Das' signature, the promise clause, and RBI emblem, Ashok Pillar emblem and electrotype (20) watermark would be on the top left and bottom side.
Earlier, RBI has already introduced new 10, Rs 50, Rs 200, Rs 500, Rs 2,000 banknotes.