UN Puts Pakistan's JeM Chief Masood Azhar on Global Terrorist List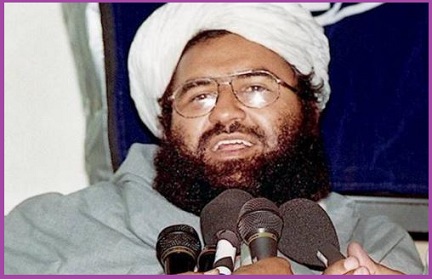 United Nations Puts Pakistan's JeM Chief Masood Azhar on Global Terrorist List: Details, Highlights
In a historic diplomatic win for India, the United Nations on 1st May 2019, puts Pakistan-based terror group Jaish-e-Mohammed (JeM) Founder & Chief Masood Azhar as a "global terrorist" after China lifted its hold on a proposal to blacklist him.

After the tag of "global terrorist" on Masood Azhar, the Pakistan government has to freeze all his assets, travel ban and an arms embargo.
This decision was taken under the UNSC Resolution 1267 which was adopted on 15th October 1999,
Masood Azhar (50 years old) is the terrorist who hails from the Pakistani administered Azad Kashmir.
Masood Azhar under his founded terror group Jaish-e-Mohammed (JeM) carried many bomb attacks on India that includes 2001 Indian Parliament attack; 2008 Mumbai attacks; 2016 Pathankot attack; 2019 Pulwama attack.
Masood Azhar got arrested by India in the year 1995 but was released by Indian Govt in December 1999, after an Indian Airlines Flight 814 (IC814) got hijacked by his terror group which was in route from Kathmandu in Nepal to New Delhi.
Background
In 2009, India moved a proposal by itself to designate Masood Azhar. In 2016 again India moved the proposal with the P3 - the United States, the United Kingdom, and France in the UN's 1267 Sanctions Committee to ban Azhar, also the mastermind of the attack on the airbase in Pathankot in January 2016.

In 2017, the P3 nations moved a similar proposal again. However, on all occasions, China, a veto-wielding permanent member of the Security Council, blocked India's proposal from being adopted by the Sanctions Committee.