Updated By: LatestGKGS Desk
Postage Stamp Released To Commemorate 750th Birth Anniversary of Sri Vedanta Desikan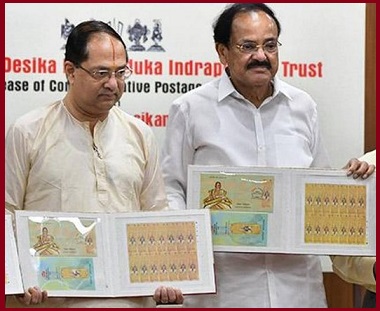 Postage Stamp Released To Commemorate 750th Birth Anniversary of Sri Vedanta Desikan: Details, Profile, Works Highlights
A postage stamp has been released to commemorate the 750th birth anniversary of Sri Vedanta Desikan and his great philosopher's life and highly valued work.
The commemorated postage stamp on Sri Vedanta Desikan was released by Indian Vice Prime Minister Venkaiah Naidu on 2nd May 2019.
Sri Vedanta Desikan (1268–1369) was a Sri Vaishnava guru/philosopher and one of the most brilliant stalwarts of Sri Vaishnavism in the post-Ramanuja period.
Sri Vedanta Desikan was a poet, devotee, philosopher, and master-teacher (desikan).
Sri Vedanta Desikan was the disciple of Kidambi Appullar, also known as Aathreya Ramanujachariar, who himself was of a master-disciple lineage that began with Ramanuja.
Sri Vedanta Desikan is considered to be an avatar (incarnation) of the divine bell of Venkateswara of Tirumalai by the Vadakalai sect of Sri Vaishnavite.
Sri Vedanta Desikan Literary works: Sri Sthothra Nidhi, Sri Paduka Sahasram, Rahasya Granthams, Sri Desika Prabandham, Kavyams.
Sri Vedanta Desikan Honors: Sarvathanthra Swathanthrar, Kavitharkiga Simham, Vedanthachariar.