Government of India: Padma Awards 2019 Winner Names: Full List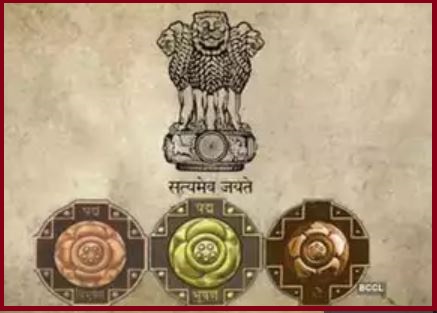 Government of India: Padma Awards 2019 Winner Names: Full List
The Government of India has announced the Padma Awards 2019 on 26th January.
The 112 eminent personalities honored with the Padma Awards 2019 include comprises 4 Padma Vibhushan, 14 Padma Bhushan and 94 Padma Shri Awards.
21 of the awardees are women and the list also includes 11 persons from the category of Foreigners/NRI/PIO/OCI, 3 Posthumous awardees, and 1 transgender person.
Padma Awards are given in various disciplines or fields of activities: social work, public affairs, science and engineering, trade and industry, medicine, literature and education, sports, civil service, etc. The three categories of awards:
I. Padma Vibhushan is awarded for exceptional and distinguished service. The 2019 winners are:
1. Ms. Teejan Bai (Art-Vocals-Folk)
2. Ismail Omar Guelleh (Djibouti) (Public Affairs)
3. Anilkumar Manibhai Naik (Trade & Industry-Infrastructure)
4. Balwant Moreshwar Purandare (Art-Acting-Theatre)
II. Padma Bhushan is awarded for distinguished service of high order.
1. John Chambers (Trade & Industry-Infrastructure)
2. Sukhdev Singh Dhindsa (Public Affairs)
3. Pravin Gordhan (South Africa) (Public Affairs)
4. Mahashay Dharam Pal Gulati (Trade & Industry/Food)
5. Darshan Lal Jain (Social Work)
6. Ashok Laxmanrao Kukade (Medicine Healthcare)
7. Kariya Munda (Public Affairs)
8. Budhaditya Mukherjee (Art-Music-Sitar)
9. Mohanlal Viswanathan Nair (Art-Acting-Film)
10. S Nambi Narayan (Science & Engineering-Space)
11. Kuldip Nayar Literature & Education (Journalism)
12. Bachendri Pal (Sports-Mountaineering)
13. V K Shunglu (Civil Services)
14. Hukumdev Narayan Yadav (Public Affairs)
III. Padma Shri is awarded for distinguished service in any field. This year it has been awarded to 94 personalities from different fields