Updated By: LatestGKGS Desk
World Migratory Bird Day Celebrations On 11th May 2019 Theme, Details, Aim, History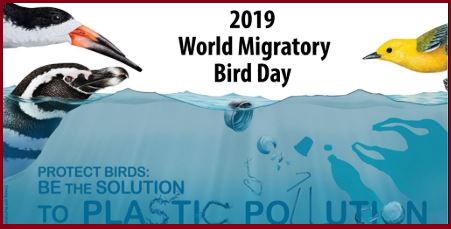 World Migratory Bird Day Celebrations On 11th May 2019 Theme, Details, Aim, Significance, History
World Migratory Bird Day is celebrated on second Saturday of May month around the world and raise global awareness about threats faced by migratory birds, their ecological importance, and need for international cooperation to conserve them.
World Migratory Bird Day-2019 falls on 11th May 2019. It is an annual awareness-raising campaign which highlights the need for protecting migratory birds and their habitats.
World Migratory Bird Day 2019 is observed with the theme "Protect Birds: Be the Solution to Plastic Pollution!". It aims to put a spotlight on the negative impact of plastic pollution on migratory birds and their habitats.
On World Migratory Bird Day many organization organizes public events like bird festivals, exhibitions, education programmes, and bird-watching excursions to celebrate this day.
Birds are globally threatened by Plastic Waste: According to the report, it was recorded that out of 265 bird species found entangled in plastic litter, at least 69 species were freshwater birds (10% of all freshwater species), 147 species were seabirds (36% of all seabird species), and 49 land bird species (0.5 percent).
History
World Migratory Bird Day was celebrated in the year 2006. Since 2018, the WMBD is celebrated twice a year, second Saturday in May and in October.
World Migratory Bird Day is organized by the Convention on Migratory Species (CMS), the African-Eurasian Waterbird Agreement (AEWA) together with Environment for the Americas (EFTA).
The CMS and AEWA are two International Wildlife Treaties which are administered by the United Nations Environment Programme (UNEP).