Updated By: LatestGKGS Desk
CSIR Introduced Less Polluting Firecrackers SWAS, SAFAL & STAR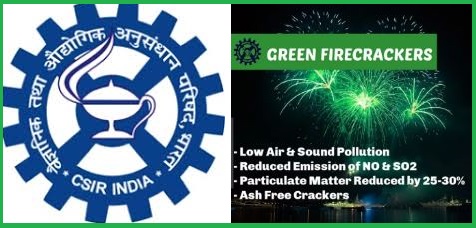 CSIR Unveiled Less Polluting Firecrackers SWAS, SAFAL & STAR: Details, Features, Highlights
The Council of Scientific and Industrial Research (CSIR) scientists have unveiled less polluting green firecrackers named SWAS, SAFAL, and STAR.
All these three firecrackers are also called 'Green Crackers' because they are green in color appearance and do not contain any harmful chemicals that would cause air pollution. It matches the sound intensity of commercial crackers in the range of 105-110 decibels.
SWAS stands for safe water releaser. The firecrackers have a unique property of releasing water vapors.
SAFAL stands for safe minimal aluminum. SAFAL has less usage of aluminum as compared to commercial crackers.
STAR stands for safe thermite cracker. STAR eliminates usage of Potassium nitrate and sulphur.

All these three less polluting crackers are 15-20 percent cheaper than the conventional ones.
The new crackers have been developed by Central Electrochemical Research Institute (CECRI) based in Karaikudi, Tamil Nadu and National Environmental Engineering Research Institute in Nagpur.
The researchers at CECRI have developed green crackers by modifying the chemical formulations for flower pots, 'jiljil' and used flower pots as a substitution for barium nitrate.
These crackers will come in the market after the approval from Petroleum and Explosive Safety Organization (PESO), which is the nodal agency for safety requirements in the manufacture, storage, transport of all types of explosives.
About CSIR –NEERI
The CSIR-National Environmental Engineering Research Institute is a research institute created and funded by Government of India under the Ministry of Science and Technology. It works in the field of environmental science and engineering and is a part of Council of Scientific and Industrial Research.
CSIR was instituted in Nagpur in 1958.
CSIR tried to address the pollution level and at the same time protecting the livelihoods of those involved in this industry.