Cricketer Ravindra Jadeja Profile, ICC Sports Career, Awards, Achievements, Records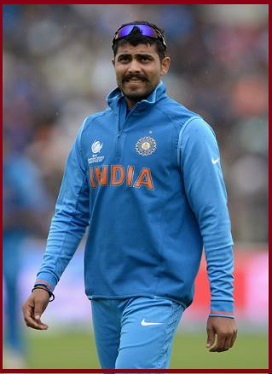 Cricketer Ravindra Jadeja Profile, ICC Sports Career, Awards, Achievements, Records
Ravindra Jadeja full name 'Ravindrasinh Anirudhsinh Jadeja' nickname "Jaddu' is an International Indian cricketer who plays for the Indian cricket national team and domestic cricket for his state Maharashtra.
Ravindra Jadeja is an experienced middle order All-rounder player who bats left-handed and bowls left-arm orthodox. His position in India is bowling all-rounder.
Ravindra Jadeja also plays in Saurashtra, India U19, Board Presidents XI, Kochi Tuskers Kerala, India B, Indians, India A, India Blue, Rest of India and in the Indian Premier League (IPL) for Rajasthan Royals, Gujarat Lions and in 2019 with Chennai Super Kings (CSK) as a Bowling All-Rounder.
Ravindra Jadeja was born on 6th December 1988 (31-years-old) who hails from Jamnagar, Gujarat, India.
Ravindra Jadeja till date has played 41 Test matches, 151 One Day Internationals (ODIs) and 40 Twenty-Twenty (T20Is) matches for Indian national team.
Ravindra Jadeja so far has scored 1485 Test runs, 2035 ODIs runs and 120 T20Is runs and 1950 runs in IPL cricket.
Ravindra Jadeja so far has taken 192 test wickets, 174 ODIs wickets 35 wickets in T20Is and 120 IPL cricket.
Ravindra Jadeja made his Test debut on 13th December 2012 against England, ODIs debut on 8 February 2009 against Sri Lanka and T20Is debut on 10th February 2009 Vs Sri Lanka.
On 22 January 2017, Jadeja became the first Indian left-arm spinner to take 150 ODI wickets. In March 2017, he became the top-ranked bowler in the world leaving behind Ravichandran Ashwin who held that position for a long time.

Recently, on 15th April 2019, Ravindra Jadeja was selected in India's squad for the 2019 Cricket World Cup.