Updated By: LatestGKGS Desk
31st May: World No Tobacco Day Celebrations 2019 Theme, Details, Aim, History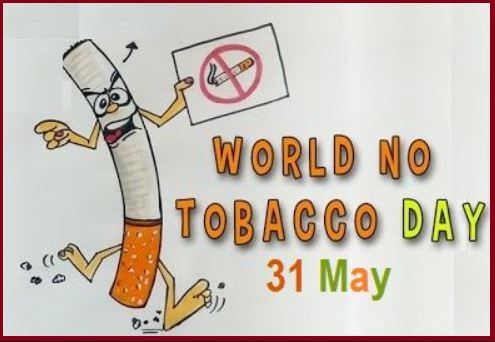 31st May: World No Tobacco Day Celebrations 2019 Theme, Details, Aim, History
World No Tobacco Day (WNTD) is celebrated every year on 31st May across the world to highlight the health risks associated with consumption of all forms of tobacco and advocating for effective policies to reduce tobacco consumption.
World No Tobacco Day-2019 Theme is "Tobacco And Lung Health". The theme aims to increase awareness on: the negative impact that tobacco has on people's lung health, from cancer to chronic respiratory disease, the fundamental role lungs play for the health and well-being of all people.
World No Tobacco Day was declared in 1988, by the 'World Health Assembly of WHO' while passing a resolution calling for the celebration of World No Tobacco Day. Since then, the WHO has supported World No Tobacco Day (WNTD) every year, linking each year to a different tobacco-related theme.
World No Tobacco Day is one of eight official global public health campaigns marked by the WHO.
Background
Tobacco use is an important risk factor for the development of cardiovascular diseases (CVD), coronary heart disease, stroke, and peripheral vascular disease.
Worldwide, tobacco consumption claims the lives of more than 7 million people each year, of which close to 900 000 are non-smokers dying from inhaling passive smoke.