22 May: International Day for Biological Diversity 2019 Theme, Details, Aim, History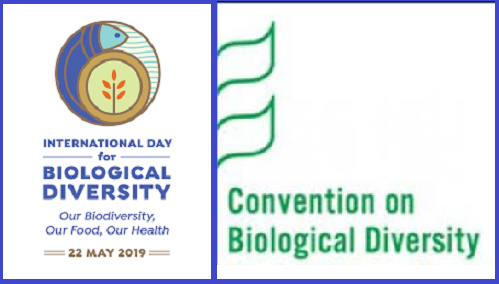 22 May: International Day for Biological Diversity 2019 Theme, Details, Aim, Significance, History
International Day for Biological Diversity is celebrated every year on 22 May to increase understanding and awareness of biodiversity issues.
International Day for Biological Diversity -2019, the theme is "Our Biodiversity, Our Food, Our Health". The theme aims to leverage knowledge and spread awareness of the dependency of our food systems, nutrition, and health on biodiversity and healthy ecosystems.
On 22nd May 1992, the text of the Convention on biological diversity (CBD) was adopted by the of the United Nations at a conference in Nairobi, Kenya. Since 2001, the international day for Biological Diversity is celebrated each year on the anniversary of this date.
CBD (commonly known as Biodiversity Convention) is a legally binding document, which came as an outcome of Earth Summit in Rio de Janeiro in June 1992 and entered into force in December 1993.
CBD objectives are conservation of biodiversity, sustainable use of its components and fair and equitable sharing of benefits arising from genetic resources.
About Biological Diversity or Biodiversity
The term Biological Diversity (or Biodiversity) was first coined by wildlife scientist and conservationist Raymond F. Dasmann in 1968.
This term became widespread in use during the 1980s. Biodiversity refers to the totality of genes, species, and ecosystems of a region. There are three levels of biodiversity viz. species diversity, ecosystem diversity, and genetic diversity.
The term biodiversity is used to address several problems in the conservation of environment including loss of species, destruction of habitats, invasive species, genetic pollution, overexploitation and effects of climate change on biodiversity.
Biodiversity is unequally distributed on Earth and it varies across regions on the basis of climatic and geographical factors.