Updated By: LatestGKGS Desk
India's DRDO Successfully Test-Fires All-Weather QRSAM Missile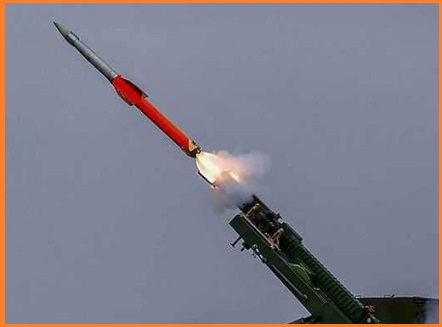 India's DRDO Successfully Test-Fires All-Weather QRSAM Missile: Details, Features, Capacity, Significance
India's Defence Research Development Organisation (DRDO) successfully test-fired Quick Reaction Surface to Air Missile (QRSAM) on 4th August 2019, from Chandipur Integrated Test Range, Odisha.
Indian Navy officials reported two QRSAM missiles were tested against live aerial targets.
The systems of QRSAM are equipped with indigenously developed technology Data Link and RF seeker. that will help the Indian Navy in Inertial Navigation System.
Quick Reaction Surface to Air Missile (QRSAM), with a strike range of 25 km, is being developed by the DRDO for the Indian Army.
ORSAM is all-terrain and all-weather missile with electronic counter-measures against jamming by enemy aircraft can be mounted on a truck and stored in a canister.
QRSAM missile can be rotated 360 degrees while on the way to its target.
QRSAM missile is also able to use as an anti-sea skimmer from a ship against low flying attacking missiles. QRSAM employs dual thrust propulsion stage using high-energy solid propellant.
Earlier on 26 February 2019, two rounds of ORSAM missile were successfully test-fired.
Latest Defence Research And Development Organisation (DRDO) Updates