Updated By: LatestGKGS Desk
DRDO dedicates website 'The Kalam Vision-Dare to Dream' to Dr. APJ Abdul Kalam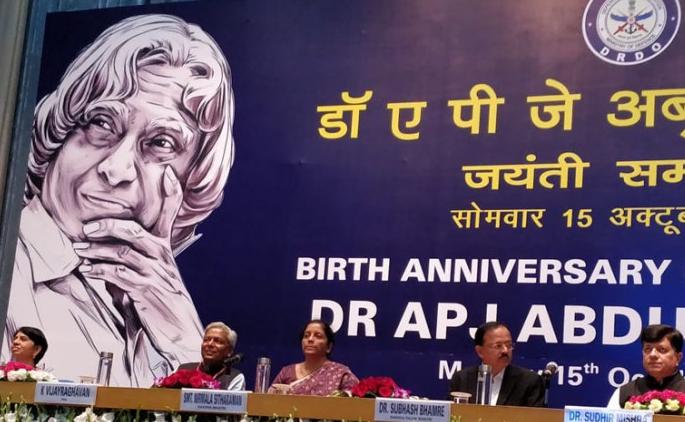 DRDO launches website 'The Kalam Vision-Dare to Dream' on the 87th anniversary of the former president, Dr. Abdul Kalam
In the DRDO Bhavan, New Delhi, on October 15, 2018, the 87th birth anniversary of former President and former head of DRDO Bharat Ratna, Dr. A.P.J. Abdul Kalam, was celebrated by the Defense Research and Development Organization (DRDO) on October 15, 2018.
On this occasion, Defense Minister Nirmala Sitaraman was also present. Defense Minister Nirmala Sitharaman launched the DRDO's dedicated website on 'The Kalam Vision - Dare to Dream'. The Defense Minister shared his experience of meeting Kalam on this occasion. He said that he was not only a good scientist but also an excellent administrator who knew the talent of his team members and nurtured them.
This website has been created to attract young people in emerging technology ie Artificial Intelligence, Cyber Security, Robotics, Autonomous System. In addition, this website will help students to participate in the open competition for students and start-up. This website is available at https://drdo.gov.in/drdo/kalam/kalam.html.
DRDO is devoted to the design and development of defense systems and is working towards enhancing self-sufficiency in the production of world-class weapon systems and equipment according to the expressed qualifications of the three defense services.
DRDO is working in various fields of military technology, which includes aeronautics, weapons, warfare vehicles, electronics, instrumentation engineering systems, missile, materials, naval systems, advanced computing, simulation, and life sciences.
DRDO is contributing to nation-building by providing spin-off benefits for the society along with the need for state-of-the-art ordnance technology.