Updated By: LatestGKGS Desk
India ranked 141 in Global Peace Index 2019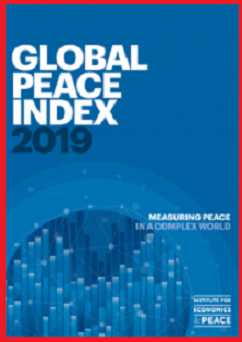 India ranked 141 in Global Peace Index 2019: Rankings, Highlights
Global Peace Index-2019 (GPI) was recently released by the Institute for Economics and Peace (IEP), India was ranked 141st place among 163 countries whereas Iceland topped at 1st position.
In 2019, India's rank slipped by five places to 141st. Earlier India was ranked 136 in GPI 2018.
GPI 2019 Key Findings
As per GPI 2019, Iceland with rank 1st remains the most peaceful country in the world. It has held this rank since 2008. Other countries at top of GPI are New Zealand, Austria, Portugal, and Denmark.
As per GPI 2019, Afghanistan is now ranked as the least peaceful country in the world. It has replaced Syria, which is now the 2nd least peaceful. Other least peaceful countries include South Sudan, Yemen, and Iraq.
Countries with the highest risk of multiple climate hazards: includes China, Japan, India, Philippines, Myanmar, Vietnam, Indonesia, Pakistan, and Bangladesh.
Countries with the largest total military expenditure: the United States (US), China, India, Russia, and Saudi Arabia.
South Asia: Bhutan topped the index in South Asia with its 15th rank. Other countries of the region include Sri Lanka (72), Nepal (76) and Bangladesh (101). The neighboring country Pakistan is ranked 153rd on the index.
Both India and Pakistan had the highest rating at five in the score for internal conflicts fought. Only deaths from internal conflict showed improvement, with fewer fatalities in Afghanistan, Pakistan, and India than the year before.
The GPI report observed that China, India, and Bangladesh score in the bottom half of GPI and have significant exposure to climate hazards, with over 393 million people in high climate hazard areas