Updated By: LatestGKGS Desk
Google Doodle Celebrates Festival of Colors 'Holi' On 21st March 2019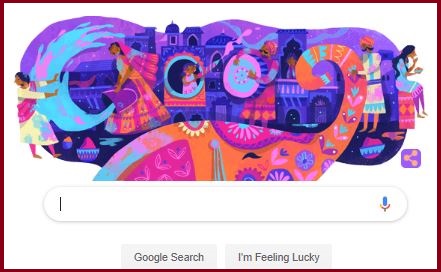 Google Doodle Celebrates Festival of Colors 'Holi' On 21st March 2019: Details, Celebrations, Significance, History
Search engine giant Google on 21st March is celebrating the color of festival 'Holi-2019' with a colorful doodle.
Holi is the famous Hindu festival colors that celebrate the triumph of good over evil, good harvest, and fertility. It also marks the commencement of spring season in India after the winter season.
Holi is usually celebrated in the later part of February or March (Phalgun Purnima) every year. Holi is a public holiday in India.
Holi is celebrated across whole India but it is most famous in Mathura, Vrindavan, Bengal, and Rajasthan.
Holi festival initially started a day before Dhulandi (day of playing colors) when people light a bonfire and indulge in singing and dancing around the fire which is called as 'Holika Dahan' according to the Hindu mythological significance.
Holi is celebrated by people of all age groups with their faces and clothes smeared with different colors of 'Gulal' celebrate the festival with great enthusiasm and fervor. The rub colors on each other's body or face by saying 'Bura Na Mano Holi Hai'.
Latest Google Doodle Updates