Updated By: LatestGKGS Desk
Google Doodle Marks Haematologist Lucy Wills Birth Anniversary On 10th May 2019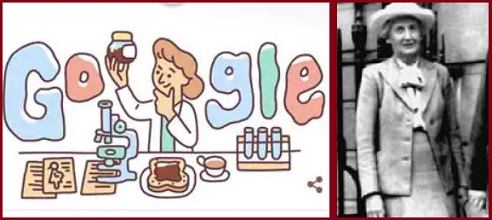 Google Doodle Marks Haematologist Lucy Wills Birth Anniversary On 10th May 2019: Profile, Achievements, Highlights
Search engine giant Google is celebrating English hematologist Lucy Wills 131st birth anniversary with a doodle on 10th May 2019.
Hematologist Lucy Wills pioneering medical researcher's analysis of prenatal anemia changed the face of preventive prenatal care for women all over the world.
Lucy Wills was born on 10th May 1888 and attended the Cheltenham College for Young Ladies, one of the first British boarding schools to train female students in science and mathematics.
In 1911, Lucy Wills earned first honors in Botany and Geology at Cambridge University's Newnham College, followed by the London School of Medicine for Women, the first school in Britain to train female doctors.
Lucy Wills traveled to India to investigate a severe form of life-threatening anemia afflicting pregnant textile workers in Mumbai, then Bombay.
Lucy Wills while experimenting attempted to prevent anemia by adding yeast extract to the diets of rats and then monkeys through the consumption of the popular breakfast spread Marmite.
The extract, which was later identified as folic acid, improved the health of the monkeys - a discovery named the "Wills Factor".
Folic acid is now recommended for pregnant women, with other important nutrients such as iron and B12, for the prenatal prevention of anemia and other conditions.
Lucy Wills spent the remainder of her life traveling and researching the impact nutrition has on pregnancy health, before her death on 16 April 1964.