Updated By: LatestGKGS Desk
Google Doodle Celebrates the 50th Anniversary of the 'Apollo 11' Moon Landing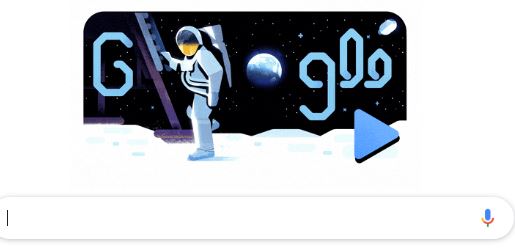 Google Doodle Celebrates the 50th Anniversary of the 'Apollo 11' Moon Landing
Today Search engine giant, Google is celebrating the 50th anniversary of the Apollo 11 moon landing with a Doodle.
Google has released its commemorative video Doodle on 19th July 2019.
Google Doodle is nearly five-minute animated video clip follows Apollo 11 from launch to the Moon and back, which is narrated by Apollo 11 command module pilot Michael Collins.
The animated video reminds viewers that some 400,000 people supported the mission, and Google notes that the next giant leap is soon to come with NASA planning to put the first woman and the next man on the Moon by 2024.
Background
Apollo 11 was the spaceflight that first landed human beings on the Moon.
Astronaut Commander Neil Armstrong and lunar module pilot Buzz Aldrin, both American, landed the Apollo Lunar Module Eagle on 20th July 1969, at 20:17 UTC.
Neil Armstrong became the first person to step onto the lunar surface six hours 39 minutes later on 21st July 1969 at 02:56 UTC
Buzz Aldrin joined him 19 minutes later. They spent about two and a quarter hours together outside the spacecraft, and collected 47.5 pounds (21.5 kg) of lunar material to bring back to Earth.