India celebrates Kargil Vijay Diwas on 26th July 2018: Highlights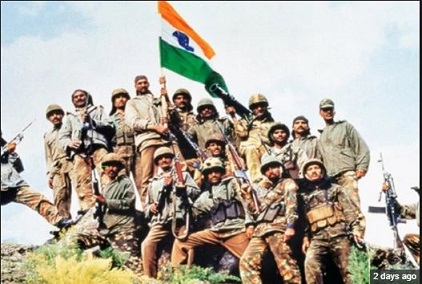 India celebrates Kargil Vijay Diwas on 26th July 2018: Highlights
India today on 26th July 2018 celebrated the 19th anniversary of Kargil Vijay Diwas, which was named after the success of Operation Vijay.
On this day, 26 July 1999, India successfully regained command over all the occupied territory which had been lost to Pakistan army invaders.
The Kargil war was fought for more than 60 days witnessing lost of lives on both India-Pakistan sides.
Kargil Vijay Diwas is celebrated on 26 July every year to commemorate and honor the Kargil War's heroes & martyrs.
On Kargil Vijay Diwas, President & Prime Minister of India ever year pays homage to the soldiers at Amar Jawan Jyoti at India Gate, New Delhi. Apart from that, many functions are also organized across India to commemorate the contribution of the Armed forces.
During the 1999 Kargil War, the Indian Army had faced a lot of difficulty in recapturing its posts located at several high-altitude peaks So in order to meet this situation the Kargil Battle School was opened for providing pre-induction training to soldiers in 2000, who were deployed in the heights along the Line of Control (LoC) in this Kargil region.