Updated By: LatestGKGS Desk
Madhavi Divan is the new Additional Solicitor General of India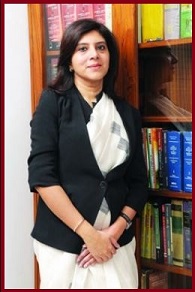 Madhavi Divan is the new Additional Solicitor General: Details, Profile, Highlights
The Government of India has appointed advocate Madhavi Goradia Divan as the Additional Solicitor General (ASG) in the government of India.
Madhavi Divan a will hold the office of ASG till 30 June 2020 and will appear in the Supreme Court on behalf of the government of India.
Madhavi Divan a is the third woman to hold the post of ASG. Senior advocate Indira Jaising was the first woman in India to become ASG. Pinky Anand was the second woman and she still holds the post.
Background
The Additional Solicitor General of India, also known as the ASG, is the third-ranked law-officer in the Indian government. The post of ASG is not constitutional as the constitution does not have any provisions regarding this. The seat of the Additional Solicitor-General of India may be at New Delhi or Mumbai or Chennai or Allahabad as the Government of India specifies.
Madhavi Goradia Divan Profile
Madhavi Goradia Divan began her legal career from the Bombay High Court. She has represented the states of Madhya Pradesh and Gujarat in judicial proceedings.
Madhavi Divan a is married to Senior Advocate Shyam Divan, who recently appeared in the right to privacy case as a lawyer for the petitioners.
Madhavi Divan a played a great role in getting Triple Talaq getting criminalised by the Supreme Court of India. Also, she advocated against giving the death penalty by the courts for the rape of minor victims.
Latest Government Of India Updates