Updated By: LatestGKGS Desk
Important sections of Reserve Bank of India, RBI Act 1934.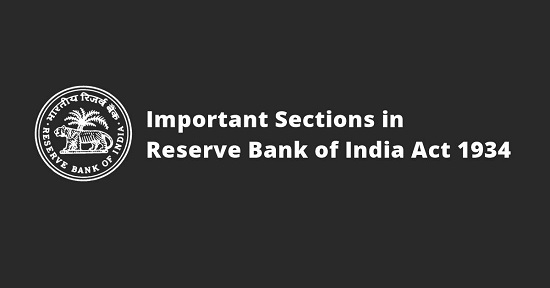 RBI Act 1934 Features
Section 22 (1934) is for the sole right to issue bank note.
Section 24 is for the denomination of note 2,5,10,20,50,100,200 ,500,1000,2000,5000 and 10,000.
Section 26 talks about demonetization which means changing the currency for the benefit of the country.
Section 42 (c) empowers RBI to add or delete the name of any bank.
Section 25 the design of banknotes is required to approve by central Government on the recommendation of the central board of RBI.
Section 33 is about minimum reserve system (1957) assets of issue RBI can't be less than 200 crores in which 115 crores of gold and remaining 85 crores of the foreign reserve are kept.
Latest Reserve Bank Of India (RBI) Updates