Updated By: LatestGKGS Desk
Government of India Unveils Eco Friendly 'Green Crackers' To Celebrate Diwali 2019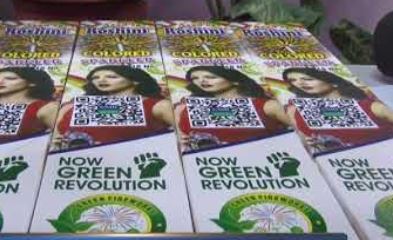 Government of India Unveils Eco-Friendly' Green Crackers' To Celebrate Diwali 2019: Details, Features, Aim
The Government of India's Indian Council of Scientific and Industrial Research (CSIR) has developed eco-friendly green crackers, which are new and improved formulations of the early made sound-emitting crackers and other fireworks.
Green crackers have been developed with new formulations for reduced emission light and sound with almost 30 percent reduction in particulate matter using Potassium Nitrate as an oxidant.
Green crackers including flower pots, sparklers, atom bombs, pencils, and chakkar ginnis are being developed.
Green crackers that are eco-friendly in nature are developed with an aim at reducing pollution and health risks.
Green crackers have been made available in the market for sellers and consumers, ahead of the popular Indian festival, Diwali 2019.
Green cracker's cost will be either less or equal to its market value.
Green crackers are solely manufactured in India only.
Latest Government Of India Updates