Record of Over1.75 lakhs Muslim Pilgrims From India Will Go for Hajj In 2018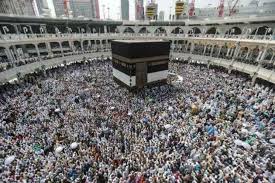 Record of Over1.75 lakhs Muslim Pilgrims From India Will Go for Hajj In 2018- Details
Union Minister for Minority Affairs, Mukhtar Abbas Naqvi on 22nd April 2018 in Mumbai, informed that for the first time, India will witness a record number of Muslims pilgrims will go to Hajj in 2018 and that too without any subsidy.
Mukhtar Abbas Naqvi also informed that it will be the first time when 1,308 women will go for Hajj without "Mehram" (male companion).
Mukhtar Abbas Naqvi proclaimed this arrangement is the result of Government efforts. India's Hajj quota has been increased for the second consecutive year (2017-2018).
A total of 3,55,604 applications had been received for Hajj which included 1,89,217 male and 1,66,387 female applicants.
A total of 6700 pilgrims will go to Hajj from Ahmedabad, 350 from Aurangabad, 5550 from Bengaluru, 254 from Bhopal, 11,700 from Cochin, 4000 from Chennai, 19,000 from Delhi, 5140 from Gaya, 450 from Goa, 2950 from Guwahati, 7600 from Hyderabad, 5500 from Jaipur, 11,610 from Kolkata, 14,500 from Lucknow, 430 from Mangalore, 14,200 from Mumbai, 2800 from Nagpur, 2100 from Ranchi, 8950 from Srinagar and 3250 from Varanasi.
The government of India is committed towards transparency and had given strict instructions to the airlines to check their unreasonable increment in fares, as a result, it has ensured that Hajj 2018 air-fares have come down significantly in 2018.
Mukhtar Abbas Naqvi also informed that the training camp established, will make the Hajj process completely online & digital in order to make it transparent and pro-pilgrims.